The ABC's of Discovery Bottles and More
Discovery bottles provide wonderful opportunities for play, exploration, and learning in the early childhood environment. Whether made by the children or made by adults, the possibilities of what can go into a discovery bottle and how discovery bottles can be used are endless!
Join me here and at the following links below to discover the ABC's of Discovery Bottles!
This ABC series is in partnership with my fellow bloggers from the Kid Blogging Network.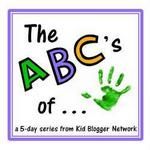 THE ABC'S OF…
 January 7 – 11, 2013
MOM TIPS & TRICKS:
SCHOOL ACTIVITIES:
LEARNING THROUGH PLAY
LITERACY:
ARTS & CRAFTS: