This is a special edition of Teach Preschool in collaboration with bloggers from all over the USA. Each blogger is sharing a book about his or her own home state in support of the wonderful project: "Booking Across the USA" sponsored by Jodie of Growing Book by Book. Our prekindergarten class explored a few simple facts about our home state of Indiana…
We took a picture walk through two different books" "Indiana Facts and Symbols" by Bill McAuliffe and "H is for Hoosier: An Indiana Alphabet" by Bruce Langton. Both books were too complex for us to read-aloud to our students but they did offer lots of wonderful photos of landmarks and symbols that our prekindergarten students found interesting…
Both of the books had wonderful photos of Indiana symbols to promote discussion about where we live. When we asked our students to tell us where they live, most of our students could tell us the city they lived in but not the state. Mrs. Courtney helped the children pinpoint the state of Indiana on a simple map…
Indiana State Flag
Every state in the US has a state flag and we discovered that Indiana's state flag is dark blue with a torch and lots of shooting stars all around the torch.  The children explored the Indiana state flag a little more closely as they created their own Indiana State flag books…
To make their flags, the children drew on the torch and flames and then used glue and glitter to add the the stars…
Then the children filled their flag books with information about Indiana symbols to be taken home and used as conversation starters with their parents…
Indiana State Bird (Cardinal)
We focused our sensory play on Cardinals in wintertime. There is nothing more beautiful than a red cardinal on a snowy pine tree….
The tub was filled with fake snow (no real snow was available at the time), real pine branches and a few Dollar Store red cardinals (picked up during the holidays)…
The Indiana sensory tub was a big hit and what a great hands-on way to help our students remember that a Cardinal is considered the Indiana state bird…
Indiana State Flower (Peony)
Our students explored the Indiana state flower by making a sticky flower using silk petals that looked just like the Peony petals on the cover of our Indiana book and a few yellow pipe cleaners…
The children pressed the silk flowers down onto clear contact paper flower shapes any way they wished to do…
There were all kinds of interpretations to this process…
Once the children completed their sticky flowers, we hung them up in our window…
Other States…
Be sure to see what others did to celebrate their state – the list of participating bloggers is just below….
Available on Amazon
Check out the participating bloggers for more fun adventures in Booking Across the USA below….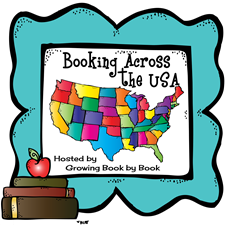 Participating Bloggers…
All 50 States for Booking Across the USA Blog Hop, A book review and crafts, activities, or freebies are included in each post. All the posts were live on February 25, 2013.

Booking Across the USA Host: Growing Book by Book


Alabama Blog Post by Everyday Snapshots Blog

Alaska Blog Post by Little Wonders' Days Blog

Arkansas Blog Post by Homeschooling in Arkansas

Arizona Blog Post by Simply Kinder


California Blog Post by Juggling with Kids

California Blog Post by The Outlaw Mom


Colorado blog Post by Learners in Bloom

Connecticut Blog Post By Teacher Park Blog

Delaware Blog Post by Mama Miss

Florida Blog Post by the Teaching Stars Blog

Georgia Blog Post by Fabulously First Blog

Hawaii Blog Post by Teaching with Style


Illinois State Post by Growing Book by Book

Indiana State Post by Teach Pre-School Blog
Iowa Blog Post by Surviving a Teacher Salary Blog
Kansas Blog Post by KCEdventures

Kentucky Blog Post by Chicken Babies

Louisiana Blog Post by Your Child's Next Book and Project Blog

Maine Blog Post by Country Fun
Maryland Blog Post by Picture Books and Piourettes

Massachusetts Blog Post by Mama Smiles Blog

Michigan Blog Post by Play Dr. Mom

Minnesota Post by the Wise Owl Factory Book a Day Blog
Missouri Blog Post by Ready, Set, Read Blog

Montana Blog Post by The Honey Bunch

Nebraska Blog Post by The Good Long Road

Nevada Blog Post by Boy Oh Boy Oh Boy Crafts Blog




New Hampshire Blog Post by Elementary Matters

New Jersey Blog Post by The Pleasantest Thing

New Mexico Blog Post by The Enchanted Homeschooling Mom Blog

New York Blog Post by What Do We Do All Day Blog

North Carolina Post by the Realistic Teacher Blog

North Dakota Post by ND Health Works

Ohio Blog Post by the Smart Chick Teacher Blog

Oklahoma Blog Post by Herding Kats in Kindergarten

Oregon State Post by Journey of a Substitute Teacher Blog

Pennsylvania Blog Post by the Land of Once Upon a Time

Rhode Island Blog Post by Smiling in Second

South Carolina Blog Post by Cookies and Kiddos

South Dakota Blog Post by Wise Owl Factory Book a Day

Tennessee Blog Post by No Monkey Business

Texas Blog Post by Curls and a Smile

Texas Blog Post by Kid World Citizen

Utah Blog Post by Teach Beside Me Blog

Vermont Blog Post by Vermont Moms Blog

Virginia Blog Post by Once Upon a Story Blog

Virginia Post by the Freckled Homeschooler Blog

Washington Blog Post by Home Learning Journey

West Virginia Blog Post by Great Peace Academy Blog

West Virginia Blog Post by Mamas Like Me

Wisconsin Blog Post by Reading Confetti

Wyoming Blog Post by No Twiddle Twaddle

USA Blog Post by the Corner on Character Blog