This week, I am joining my fellow bloggers  Nurturestore, The Imagination Tree and Sun Hats and Wellie Boots for a fun week of play dough activities…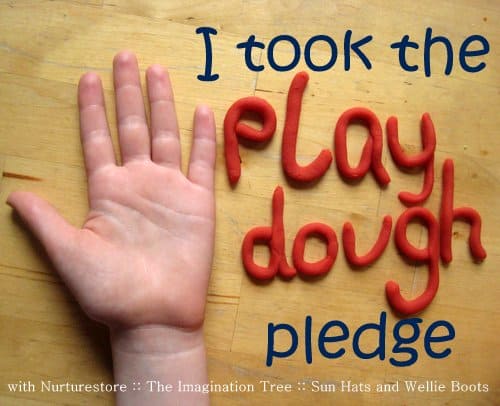 Making Play Dough
To prepare our play dough surprise, the pre-k children helped me whip up a batch of plain white play dough…
Each child participated in the process and we used the No Cook Play Dough recipe which can be found in the free Nurture Store Play Dough Ebook.  I love this ebook and use it as my go-to resource for making play dough all the time…
The recipe calls for salt, flour, oil, Cream of Tartar, and boiling hot water.  The children mixed up all the dry ingredients but I added the boiling hot water…
The children carefully mixed the water and oil into the dry ingredients until the play dough started to thicken up and cool just a bit…
Once most of the dry ingredients were mixed in with the water and oil, the children were invited to dump their play dough out on a floured surface and then invited to begin kneading the dough…
The children kneaded the dough until it was soft and smooth. We talked about the process and used words that described the process as we went along like measurements, cups, tablespoon, mixing, boiling, kneading, and so forth…
An important part of teaching cooking and math is introducing and using math or cooking words throughout the process.  As the children hear the words and use the words through their play, they will do a better job remembering and understanding the meaning of those words…
After the children had a chance to play with out homemade play dough for a bit, we collected it all and placed it in a baggie to save for the next day.  I had told the Pre-K children that we would be sharing the play dough with our entire class the next day and this is why we made such a large amount….
Preparing Play Dough Surprise
After the children went home, I separated the play dough into small balls. Enough balls of play dough so each child in my own class would have a ball of their own plus a few extra. I didn't realize how much play dough we had made so I ended up with a ton of  play dough balls…
As you can see, I poked a hole in the middle of each play dough ball but not so the hole went all the way through the balls…
Then I placed several drops of Coloration Liquid Watercolor (which I purchased from Discount School Supply) inside the hole of each play dough ball. If you have never tried liquid watercolor, let me just say this is the BEST stuff ever for adding color to any type of art. sensory, or other creative process. The color comes off of hands easily and the color is very pretty and vibrant…
I realized later that I could have added even more color than I did  but this was a first try for me at this process so I only added a few drops of color…
After adding color to each play dough ball, I sealed up the tops of the balls with more play dough so the children couldn't tell that there was color inside the play dough balls….
And then I gently placed each play dough ball inside a plastic bag for the night…
Surprise!
The next day as the children arrived at school, they found the play dough balls set out at a table along with ice cream cones…
Each child was invited to select a ball of play dough and encouraged to "soften up the ball a bit by squeezing it first"…
The children very quickly discovered that there was some color hidden inside their balls of play dough. I heard words like, "I got red!" or "I got green!"  The children jumped right in to see what other colors were inside the play dough balls…
The children loved finding their color surprises and I had hoped that the color would blend in with the play dough until the entire ball changed color.  But this is where I learned that I should have either added lots more color or made each ball a whole lot smaller!  Although I had hoped for better color results, the children didn't care at all. They just wanted to keep on playing with the play dough balls…
For those who wanted more color, I simply added more Coloration Liquid Watercolor to their play dough and they mixed it more until the color spread throughout the play dough.  Remember, the coloration does not stain hands (and it did not stain out table). The color may look like it is going to stain, but the color came right off with one quick hand washing with a little soap and water…
The children used their play dough to make ice cream cones as part of our ongoing celebration of the Indianapolis 500 which I shared more about in in my previous two posts…
The children created their ice cream cones with the play dough and added pom pom cherries right on top!
A super fun day with lots of surprises…
Available on Amazon
Links to Grow On
Puffy Ice Cream Cones from Teach Preschool
Mystery Play Dough from The Seeds Network
Color Surprise Playdough from Play, Create, Explore