It is my sincerest privilege to share this post along with 20+ fabulous bloggers who have collaborated together to present this creative challenge: creative ideas to do with a cardboard box.  This terrific blog linky was put together by the tireless efforts and leadership of Tinkerlab in honor of her 1 year anniversary.  Congratulations to Tinkerlab!
As I have mentioned before, I am really not all that creative so coming up with a box idea left me at a loss…
I brought these four big boxes home from preschool thinking I might be able to create something with them but they sat in my studio for two days while I still struggled with an idea.  So I finally sat down and started breaking them down and cutting off all the flaps until I ended up with them all in pieces…
After I cut the boxes apart, I asked my little friend Tristan, who was over playing in the sensory table, if he would like to play with the pieces and play he did!
He started off thinking small and then realized that he could use all the pieces and ended up building and designing just like a little carpenter…
Tristan was particularly concerned with making every thing "square" as he would put it….
I am not sure what he meant exactly but I think he wanted straight edges to match up with straight edge…
Once he had all his walls in place, Tristan began laying the flooring down…
Then he decided he wanted his walls taller. It took a bit of problem solving for Tristan to figure out how to get the walls taller…
He eventually discovered that if he stood some of the piece in between the boxes where they overlapped, the walls would stay standing…
Soon Tristan had his building designed to his personal satisfaction…
After all that work it was time to take a little rest and reflect on a job well done…
Here is another idea for what could be done with these boxes from Play Create Explore. Perhaps we will save the pieces for another day of building!
Be sure to check out each of the amazing bloggers below that are participating in this fun and innovative day of boxes!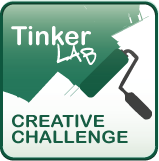 If you have a box post you would like to share – head on over to Child Central Station and add you linky there!